I HAVE JEEP GRAND CHEROKEE.I WANT INSTRUCTIONS TO REPLACE HEAD LIGHT SWITCH ON JEEP GRAND CHEROKEE.-----
PLEASE GIVE DETAILS FOR JEEP GRAND CHEROKEE,AND NOT FOR JEEP CHEROKEE.
------------------
OK. THE PROCEDURE FOR JEEP CHEROKEE AND JEEP GRAND CHEROKEE ARE NOT SIMILAR.SO I WILL DEFINITELY GIVE YOU PROCEDURE FOR JEEP GRAND CHEROKEE.
GO THROUGH THE PROCEDURE SHOWN BELOW:---
The headlamp switch is mounted on what jeep calls the out board switch pod.
Here is the info to gain access to the switch.WITH DETAILS AND DIAGRAM.
OUTBOARD SWITCH POD
WARNING: ON VEHICLES EQUIPPED WITH AIRBAGS, Refer to PASSIVE RESTRAINT SYSTEMS BEFORE ATTEMPTING ANY STEERING WHEEL, STEERING COLUMN, OR INSTRUMENT PANEL COMPONENT DIAGNOSIS OR SERVICE. FAILURE TO TAKE THE PROPER PRECAUTIONS COULD RESULT IN ACCIDENTAL AIRBAG DEPLOYMENT AND POSSIBLE PERSONAL INJURY.
Both switch pod bezels are secured to the instrument panel with snap clip retainers and a light snap fit. Using a trim stick or another suitable wide flat-bladed tool, gently pry around the perimeter edges of the bezel to release the snap clip retainers.
Remove the bezel from the instrument panel.
To install the bezel, use one hand to hold it in position on the instrument panel, then use the other hand to push the bezel towards the instrument panel until each of the retainers snaps firmly into place.
Remove the two screws that secure the outboard switch pod to the instrument panel.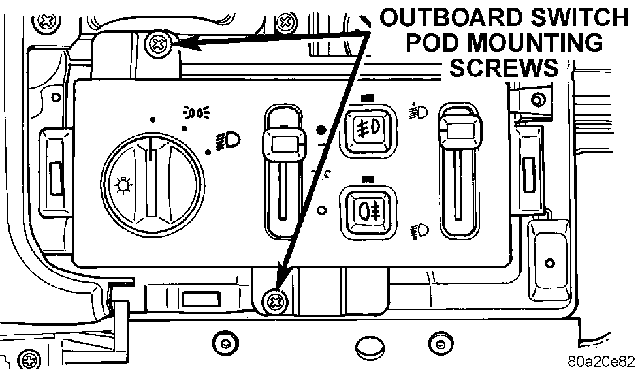 Pull the outboard switch pod out from the instrument panel far enough to unplug the wire harness connectors.
Remove the outboard switch pod from the instrument panel.
Reverse the removal procedures to install. Tighten the mounting screws to 2.2 N·m (20 in. lbs.)
You will only need something flat to gently pry the trim bezels off and a phillips screwdriver to remove the headlamp switch.
------------------