The detailed procedure with helpful diagrams to replace Alternator is as follows:---
1.
Disconnect and isolate negative battery cable at battery.
2.
Remove the right front wheel.
3.
Remove the underbody air dam.
4.
Remove the accessory drive splash shield.
5.
Remove the accessory drive idler pulley.
6.
Loosen the lower mounting bolt.
7.
Loosen the A/C compressor and relocate, pull down and to outboard side of vehicle to make room to remove generator.
8.
Unplug field circuit from generator.
9.
Remove the B+ terminal nut and wire.
10.
Remove the upper mounting bolt.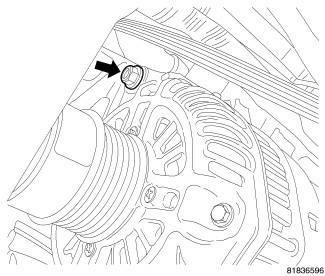 11.
Remove the generator lower mounting bolt.
12.
Relocate the battery terminal (1) to the other side of the A/C line (2) for removal of the generator.
13.
Rotate generator pulley down.
14.
Slide generator down and out of vehicle.