the directions for the front speaker to you. If you have a couple screws that just turn then they have gotten stripped out. Try to get something behind the piece you are trying to remove and pry outward with it while you are turning the screww. This will usually cause it to grab again and come out.
Disconnect and isolate the battery negative cable.
Remove the two screws that secure the outboard end of the speaker bezel to the instrument panel .
Using a trim stick, gently pry at the top and bottom edges of the speaker bezel to release the two snap clip retainers that secure the bezel to the instrument panel.
Remove the speaker bezel from the instrument panel.
Remove the four screws that secure the speaker to the instrument pane.
Pull the speaker away from the instrument panel far enough to access the speaker wire harness connector.
Unplug the wire harness connector from the speaker.
1 - PRY HERE
2 - SPEAKER BEZEL
3 - PRY HERE
4 - MOUNTING SCREWS


---------------
this is the speaker.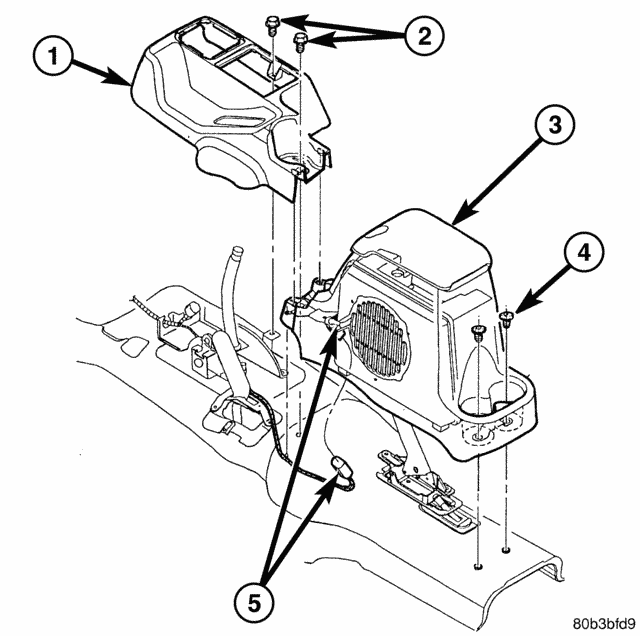 1 - FRONT CONSOLE
2 - BOLTS
3 - REAR TOWER
4 - BOLTS (2)
5 - ELECTRICAL CONNECTOR
here are the steps to get that housing off. and then the steps for the speaker.
Remove the cup holder, if equipped.
On full console models remove the trim disc from the bottom of the cup holder.
Remove the automatic transmission shift bezel, if equipped.
Using a trim stick C-7455 or equivalent, remove the air bag deactivation switch and disconnect the electrical connector, if equipped.
Remove the bolt(s) attaching the console to the floor pan.
Shift transfer case to four low position.
Shift transmission to L (2nd gear for manual transmission) and remove the console assembly.
To remove the speaker.
1. remove the four screws that hold the speaker.
2. disconnect the connector.
------------------------